Online Management Program

Online Management Bachelor's Degree Overview
With an online bachelor's degree in business management at Franciscan University of Steubenville in Ohio, you'll develop the skillsets that organizations highly value, such as the ability to effectively motivate and lead teams and individuals. You'll also learn how to manage complex operational processes with a deep commitment to ethical decision making. Acquire theoretical and practical insights along with the skills you need to succeed in a wide range of commercial and nonprofit organizational settings with an online undergraduate management degree delivered by a Catholic university.
Outstanding business instruction, now online
The Franciscan business faculty are focused on excellence in teaching. They bring extensive real-world experience in management to you and are committed to Franciscan's Catholic ethical tradition. Most faculty members have considerable online instruction experience as they also teach in Franciscan University's online MBA program. To ensure you receive the most current education in business management, Franciscan's business programs are guided by an advisory board of leading executives from top national and international firms.
Explore More of the Online Management Bachelor's Degree Program
Here are just a few other ways Franciscan's online management bachelor's degree program stands out from the rest:
100% online: Franciscan's management bachelor's degree is completely online, meaning you can earn your degree from anywhere while meeting work, family, and other life commitments.
Relevant management degree: To ensure you have a management degree that reflects the real world, the business program at Franciscan University is guided by the Business Advisory Board, a council of leading executives from firms such as AECOM, Bayer Corporation, Enterprise Rent-a-Car, EQT Corporation, FeX Group, The Hershey Company, Honeywell, Microsoft, Protiviti, and Tribe Mediterranean Foods.
Experienced faculty members: Your expert professors have a deep understanding of the business world from years of experience working in it. These Catholic men and women of faith will help you develop into a moral, ethical leader who confidently serves as a disciple of Christ in business management degree careers.
Bring Jesus Christ into the workplace: Franciscan management degree faculty believe the only way for the corporate world to improve is to put Catholic management majors like you in the trenches. Through Franciscan University's sound ethical Catholic formation, you'll become a leader who knows right from wrong, the importance of service, and the value of a hard-work ethic.
Integrated online management degree: With Franciscan University, your online undergraduate management degree includes courses in accounting, banking, business law, economics, finance, labor relations, and organization management. A strong liberal arts core, with courses in the humanities and sciences, ensures you're a well-rounded leader in your future business management career, anywhere in the world.
What Can You Do With an Online Management Degree?
The online bachelor's in management degree from Franciscan University in Ohio will prepare you to start your own business or to work in for-profit, nonprofit, and government organizations. You'll also be ready to pursue graduate-level studies with Franciscan or other universities.
Graduate Programs for Management Majors
Master of Business Administration
Master of Science in Management
Potential Job Titles for Management Majors
Administrative Services Manager
Benefits Administrator
Hospitality Manager
Human Resources Administrator
Operations Manager
Personnel Manager
Retail Store Manager
Training Specialist
Learn from the same world-class professors who teach in our classrooms. Experience interactive classes online that aids and encourages your learning, plus an online community that inspires your faith.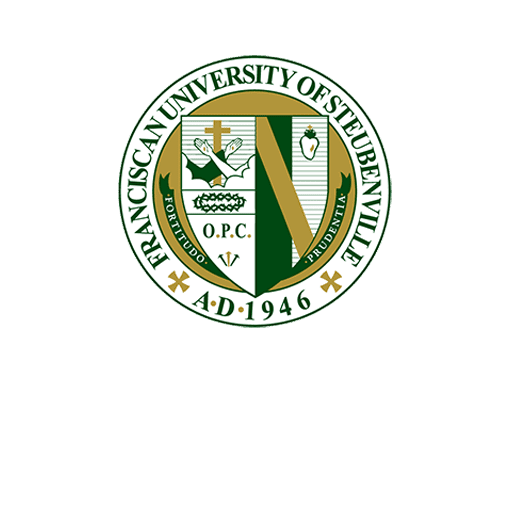 Christian Students in Free Enterprise
The student business club aims at developing the Christian life in the world of business. The organization will carry out its mission—the promotion of the free enterprise system alongside Christian moral principles—through Project Bootstraps and other collaborations designed to help local businesses succeed, and with fundraising effort the AIM Pregnancy Center, the Urban Mission, and Just $1 for Africa Campaign.
The Business Advisory Board helps Franciscan University better provide students with the professional competence they need to succeed in the contemporary business world, bringing with them fresh ideas illuminated by Catholic social thought and the Franciscan value of transformational leadership.
Programs Related to the Online Bachelor's in Management
Still undecided? You might also be interested in these other undergraduate degree programs at Franciscan that are similar to the management bachelor's degree.
The Department of Accounting, Business Administration and Economics at Franciscan University of Steubenville has received specialized accreditation for its business programs through the International Accreditation Council for Business Education (IACBE) located at 11374 Strang Line Road in Lenexa, Kansas, USA. For a list of accredited programs click here.