Nursing Master's Degree Program Overview
The accredited master's in nursing degree program at Franciscan University of Steubenville in Ohio is a flexible, Catholic faith-filled graduate program that can be tailored to your needs. Enroll full or part time, take evening classes, and complete clinicals near campus or in your hometown. Designed to be completed in six semesters, if you start in the fall, the program curriculum rooted in the Catholic tradition includes core course work in nursing, advanced practice nursing, and family nurse practitioner.
Teachings and traditions of the Catholic Church
With a focus on caring for patients throughout the lifespan, the accredited MSN degree program at Franciscan University embraces the spirituality and charisms of the Catholic Saint Francis of Assisi: penance, prayer, poverty, and humility. Striving to integrate the core Catholic Franciscan values into all course work, the accredited master's in nursing degree program is centered on nursing as a healing ministry, which means caring for the health of a person in his or her environment.
Explore More of the Nursing Master's Degree Program
Here are just a few other ways Franciscan's nursing master's degree program stands out from the rest:
Affordability: The costs per credit hour of Franciscan University's accredited MSN degree program is less than several other colleges in Ohio and significantly less than nearby colleges in Pittsburgh. The Office of Financial Aid also offers several scholarship opportunities specifically for graduate students in the accredited MSN degree program. With the potential to earn a higher salary, graduate students of the MSN are making a valuable investment in their future.
Hands-on, classroom learning: Join your peers on campus in Steubenville, Ohio. As a graduate student, you will have access to Franciscan's nursing learning laboratory, with specialty equipment such as otoscopes and opthalmascopes.
Precepted clinical experiences: Hone your skills with one-on-one learning experiences at hospitals and clinics in and around Steubenville, Ohio, or near your hometown in each of the required specialties: family health, pediatrics, and women's health. Practice providing patient care in the Catholic tradition of respect for the dignity of human life with guidance from nurse practitioners or physicians to gain confidence in preparing for your own nursing career. You may also be able to complete some clinical hours through an elected rotation in an approved specialty area of your choice.
High-quality faculty: Faculty members in the accredited MSN degree program continue to refine their practice to stay current in their knowledge, skills, and teaching. Faithful men and women of God and the Catholic Church, they include certified family nurse practitioners, a published author and editorial board member, and a member of Franciscan University's Internal Review Board.
What Can You Do With an MSN Degree?
The salary of MSN program graduates is typically higher than those of professionals in other fields. Trained to be generalists with Catholic values in advanced practice nursing, Franciscan master's in nursing alumni have experienced a 95 percent job placement rate after graduation.
Health Requirements
Students admitted to the graduate nursing program are required to have a health examination prior to clinical experiences. Subsequent yearly health examinations or health requirements are contingent on those set by clinical facilities. Students are generally accountable to the same health standard as the facility employees in order to assure safe practice within those facilities.
Liability Insurance
Each student in the master's program must provide proof of the proper liability insurance coverage for an Advanced Practice Nurse, if not covered by Franciscan University's policy. The insurance must be approved by your advisor. The cost for liability insurance through Franciscan University is $25 for the MSN student as of Fall 2015. The University will automatically charge the fee for clinical practice and liability insurance to clinical students' accounts. Students already possessing liability insurance must show proof of coverage and payment to avoid charges for insurance.
Dress Code at Preceptor Sites
Graduate students at preceptor sites represent the advanced professional role of the Registered Nurse and are representatives of Franciscan University of Steubenville. Therefore proper professional appearance is imperative. The graduate student must adhere to the required dress code in agreement with the assigned clinical placement. A student name tag, which states that the student is a Franciscan University of Steubenville graduate student, with his/her name and title in full view, must be worn.
Transportation Requirements
Students are responsible for providing their own transportation to clinical sites.
How to Apply for Admissions
Gaining admission to the MS in Nursing program is simple, and we are ready to help you navigate the process. Here are the things we need:
Official Bachelor Transcript and Official Transcripts with Relevant Transfer Credit
Two Letters of Recommendation
Email them to GradAdmissions@franciscan.edu
Or mail them to:
Graduate Admissions
1235 University Blvd.
Steubenville, Ohio 43952
Associated Costs
The costs associated with MS in Nursing program include:
$525 per credit hour x 48 hours = $25,200
Contact Us
If you have any questions or need help please contact Graduate Admissions at GradAdmissions@franciscan.edu or (740) 284-5239
Inquire For More Information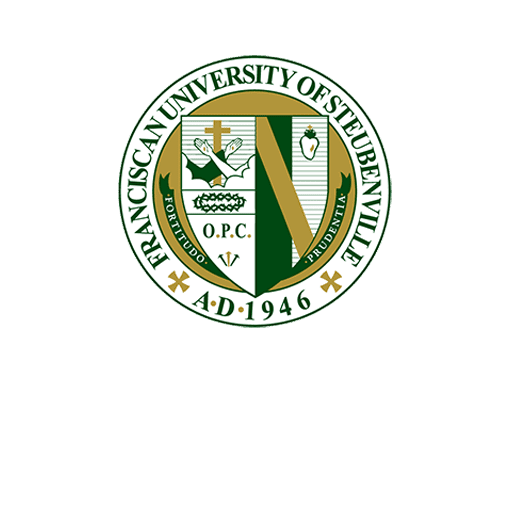 The baccalaureate degree program in nursing, the master's degree program in nursing, and the post graduate APRN certificate program at Franciscan University all are accredited by the Commission on Collegiate Nursing Education. All comments to be directed to ccneaccreditation.org or to:
Commission on Collegiate Nursing Education
AACN
655 K Street, NW, Suite 750
Washington, DC 20001
(202) 887-6791
Program Evaluation
The undergraduate, graduate and certificate programs are evaluated through a number of indicators, including pass rates on licensure and certification exams, graduation rates, retention rates, and employment rates. Please see the following link for data on these program outcomes indicators.