Family Nurse Practitioner Overview
The Family Nurse Practitioner Track will prepare the graduate for certification through a national credentialing center and to apply to the state board of nursing for authority to practice as a Family Nurse Practitioner.
This specialization provides for the acquisition of the knowledge, skills, and values necessary for the advanced practice nurse.
Graduate Nursing Programs
Caring for the Body, Mind, and Soul, One Person at a Time.
The baccalaureate degree in nursing, the masters degree in nursing, and the post graduate APRN certificate program at Franciscan University is accredited by the Commission on Collegiate Nursing Education, 655 K Street, NW, Suite 750, Washington, DC 20001, 202-887-6791. It is designed to facilitate the education of men and women as generalists and advanced practice nurses in the professional practice of nursing. To this end, the faculty and students are supportive of Catholic and Christian values and the dignity of the human person from conception to a natural death. To advance this mission, the Department is centered on nursing as a healing ministry, which is focused on the health of a person in his/her environment. The nursing department is further dedicated to the promotion of learning, academic excellence in teaching, and is supportive of professional nursing standards and the process of evidence based nursing practice. The purpose of the Master of Science in Nursing program is to facilitate the education preparation of registered nurses into the roles of advanced practice nurses.
The Master of Science in Nursing program is designed as a six semester program that includes fall, spring and summer terms. The student may enter the program at the beginning of any semester, however the length of the time to complete the program may be determined by the point of entry into the system. The courses run sequentially with only certain courses offered each semester. The full load for the graduate student is nine credits. It is not recommended that a student take more than the proposed course work during any term. Part time study is available, the student should seek advice from an academic advisor concerning appropriate part time scheduling.
Your clinical experience can be performed in a variety of health care settings like physician offices, clinics, urgent care centers, and rehabilitation units. Examples include various area physician offices, Trinity Health System Urgent Care, Minute Clinic, Walgreens Clinics, CHANGE Inc, Weirton Medical Center, Wheeling Hospital, Doctor's Urgent Care, EZCareWalk In Medical, and Reynolds Memorial Hospital. These settings include over 300 preceptors who are contracted with Franciscan University. Through this network we have built strong and trusting relationships with these providers, which will only enhance your practical experience during clinicals and beyond. Many of these organizations have hired our graduates.
Our graduates are employed in physicians' offices and emergency departments as hospitalists; specializing in psychiatry, dermatology, cardiology, pulmonary, orthopedics, and private practice just to name a few.
A post master certificate program is available for those students who have previously earned a master degree in nursing.
The curriculum consists of three components:
The graduate nursing core curriculum: 22 credits
The advanced practice nursing core curriculum: 9 credits
The specialization core curriculum: 15 to 17 credits
Health Requirements
Students admitted to the graduate nursing program are required to have a health examination prior to clinical experiences. Subsequent yearly health examinations or health requirements are contingent on those set by clinical facilities. Students are generally accountable to the same health standard as the facility employees in order to assure safe practice within those facilities.
Liability Insurance
Each student in the master's program must provide proof of the proper liability insurance coverage for an Advanced Practice Nurse, if not covered by Franciscan University's policy. The insurance must be approved by your advisor. The cost for liability insurance through Franciscan University is $25 for the MSN student as of Fall 2015. The University will automatically charge the fee for clinical practice and liability insurance to clinical students' accounts. Students already possessing liability insurance must show proof of coverage and payment to avoid charges for insurance.
Dress Code at Preceptor Sites
Graduate students at preceptor sites represent the advanced professional role of the Registered Nurse and are representatives of Franciscan University of Steubenville. Therefore proper professional appearance is imperative. The graduate student must adhere to the required dress code in agreement with the assigned clinical placement. A student name tag, which states that the student is a Franciscan University of Steubenville graduate student, with his/her name and title in full view, must be worn.
Transportation Requirements
Students are responsible for providing their own transportation to clinical sites.
How to Apply for Admissions
Gaining admission to the MS in Nursing program is simple, and we are ready to help you navigate the process. Here are the things we need:
Official Bachelor Transcript and Official Transcripts with Relevant Transfer Credit
Two Letters of Recommendation
Email them to GradAdmissions@franciscan.edu
Or mail them to:
Graduate Admissions
1235 University Blvd.
Steubenville, Ohio 43952
Associated Costs
The costs associated with MS in Nursing program include:
$525 per credit hour x 36 hours = $18,900
Contact Us
If you have any questions or need help please contact Graduate Admissions at GradAdmissions@franciscan.edu or (740) 284-5239
Inquire For More Information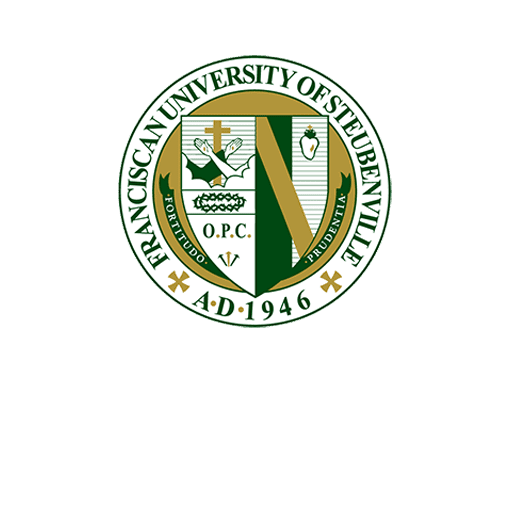 The baccalaureate degree program in nursing, the master's degree program in nursing, and the post graduate APRN certificate program at Franciscan University all are accredited by the Commission on Collegiate Nursing Education. All comments to be directed to ccneaccreditation.org or to:
Commission on Collegiate Nursing Education
AACN
655 K Street, NW, Suite 750
Washington, DC 20001
(202) 887-6791
Program Evaluation
The undergraduate, graduate and certificate programs are evaluated through a number of indicators, including pass rates on licensure and certification exams, graduation rates, retention rates, and employment rates. Please see the following link for data on these program outcomes indicators.