Special Education Professors Receive $75,000 Research Grant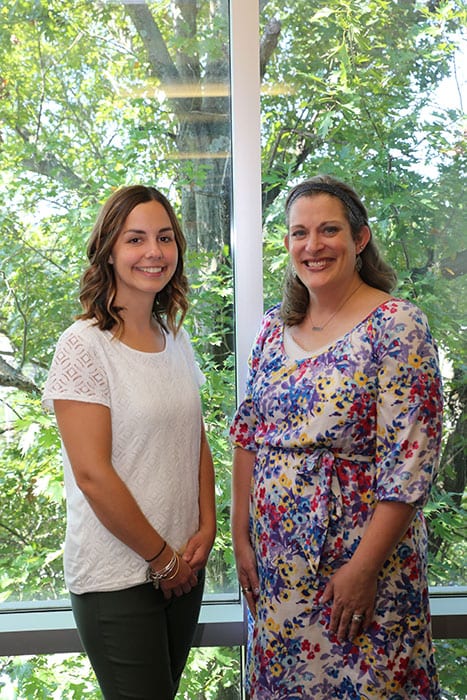 Two professors in Franciscan University of Steubenville's Education Department received a $75,000 grant from the Ohio Deans Compact on Exceptional Children to create an online module to help educators across the state teach evidence-based behavior management practices.
Dr. Emily Sobeck and Dr. Megan Reister will work with eight teachers from Pugliese West Elementary, The School of Bright Promise, and Bishop John King Mussio Junior High — a combination of public, alternative, and private schools in the Steubenville area — to develop 10 video modules to teach education students evidence-based behavior management practices, including incorporating choice and behavior-specific praise.
"Every semester, I spend hours looking for high-quality, educational videos on these strategies to use with my students, but there's nothing out there," says Sobeck, an assistant professor of special education at Franciscan since 2016. "With this grant, we'll be able to make high-quality videos that universities and schools from pre-K to 12th grade across Ohio can use as resources."
For each strategy, Sobeck and Reister will meet with the eight teachers to teach them the specific strategy and walk them through the steps. They will observe the teachers in the classroom for two weeks as they practice the behavioral strategy. Afterwards, a student researcher will video-record the teachers putting the strategies into action in the natural environment of their classrooms. The teachers will also keep "fidelity checklists" throughout the cycle to track their progress on implementing each strategy.
An editor will prepare the videos for use as education resources both in the classroom and for professional development. Sobeck and Reister also hope to create a digital curriculum including modules for each of the 10 practices that will feature the classroom videos, peer-reviewed articles on the practices, and more.
The project funs from fall 2019 to fall 2021. The modules should be ready for dissemination in September 2021.
"This project will provide high quality instruction to college education majors while helping educators already in the workforce," says Reister, an associate professor of special education and early childhood education at Franciscan since 2014. "It's fulfilling needs in the here and now."
The pair will also work with a student researcher who is an undergraduate student at Franciscan University, an added-on benefit of the project.
"We started this project with pre-service educators in mind and having a student researcher takes that to a whole new level," says Reister. "It's one thing to talk about doing research in class, but this student will actually be participating in the research."
Overall, Sobeck and Reister expect this project to have a big impact on education students at Franciscan University and beyond.
"Now, when I'm talking about behavior-specific praise, for example, I'm not just going to talk about it, and students aren't just going to read about it," says Sobeck. "We're going to see actual footage of teachers using it and bridge the gap between just knowing about something and seeing it in action before they're required to put it in action themselves."