Master of Catholic Leadership

Master of Catholic Leadership Program Overview
The Master of Catholic Leadership Program is a fully online, 36-credit program designed to train students in principles of leadership theory and instill practice skills for success as a leader. The program is designed to meet the needs of mid-career professionals seeking to advance their leadership opportunities. Its core curriculum is grounded in Catholic Social Doctrine and the philosophy of leadership; in addition, the program's multidisciplinary approach offers a variety of perspectives on leadership and draws on a diverse set of speakers who are experts in their field of study and work. Students can complete the program in under two years.
Forming you as a leader who can
Help others take their place in the Body of Christ
Accompany team members to self-fulfllment
Listen to others' stories, and showcase their gifts
Organize work environments as encounters with the graces of reality
Orchestrate team harmony
"Leadership is a skill set. You have to practice it— and be willing to trust, have a prayer life, and understand the dignity of each person you encounter." —Dr. Tiffany Boury, MCL Faculty
Foundational Courses for All Tracks
Foundations of Leadership
Catholic Understanding of the Human Person
Human Resource Management
Organizational Communication
Strategic Finance for Leaders
Contemporary Topics in Catholic Leadership
Catholic Educational Leader Track Courses
Innovation and Change in Catholic School Environments
Research Methods and Design
Action Research Project Seminar I
Action Research Project Seminar II
Action Research Project Seminar III
Action Research Conclusions and Presentation
"The most deadly poison of our time is indifference. And this happens, although the praise of God should know no limits. Let us strive, therefore, to praise him to the greatest extent of our powers." —St. Maximilian Kolbe
Through the Master of Catholic Leadership Program you will…
Understand how contemporary leadership theory and Catholic social thought inform professional leadership practices
Articulate personal leadership values
Demonstrate effective communication and problem-solving skills relevant to leadership roles within diverse environments
Develop the virtue of solidarity as a way to advocate for diverse groups of people
Evaluate complex decision-making processes while exemplifying self-refection strategies
Apply Catholic doctrine and leadership theory to organizational change efforts
Produce original action research to improve leadership practice
"Be servants who are submissive to every human being for God's sake." —St. Francis of Assisi
Take Action Soon!
We are now accepting applications for the third cohort, which will start in May of 2021. The program's cohort is capped at 20.
A Unique and Right Way to Approach Leadership
CATHOLIC:
Catholic principles inform the entire program, and the courses show how you can apply these principles in meaningful ways to daily leadership decisions.
PERSONALIST:
Our coursework emphasizes the dignity and importance of every person, both from a philosophical approach—what's knowable from reason—and the theological view of the person as destined for heaven.
MULTIDISCIPLINARY:
Our courses cross academic borders: Communications courses are co-designed with theology and philosophy faculty. History and literature enrich leadership courses. The true, the good, and the beautiful permeate the program.
COHORT MODEL:
Students accepted into our MCL form a cohort (20-student max) to provide support and foster community. Online discussion boards and video submissions bring about interaction between students; workshops, conferences, and think tank sessions (both on campus and in various locations) increase your sense of belonging to the Franciscan University family.
MULTIPLE CAREER TRACKS:
Our program offers foundational leadership courses, with individual cohorts following specific career tracks, beginning with the Catholic Educational Leader track. Future tracks in other disciplines are also in development.
ACTIVE LEARNING:
Through action research projects, students identify real needs and use Church teaching to develop plans to address those needs. You implement the plans, gather data, and report on your findings. The MCL delivers the resources and support needed to cultivate and sustain innovative Catholic leadership.
PERSONAL COACHING:
Students receive individual coaching from faculty advisors and experts. You can network and research with faculty across curriculums to develop a broader view of Catholic teaching and leadership.
ONGOING SUPPORT:
Our support doesn't end with graduation. Our graduates continue to receive professional development, networking, and research opportunities so these leaders can meet the challenge to be light and leaven; to preach always, and sometimes use words.
"By placing the Catholic vision of reality at the center of the program, we're offering a better formation for our students and better value for the companies hiring them. Our graduates will be better leaders." —Dr. William Newton, MCL Faculty
How to Apply for Admissions
Gaining admission to the Master of Catholic Leadership program is simple, and we are ready to help you navigate the process. Here are the things we need:
Three Letters of Recommendation – no form required.
Official Transcripts from all institutions where you have done college undergraduate or graduate-level work
Email them to GradAdmissions@franciscan.edu
Or mail them to:
Graduate Admissions
1235 University Blvd.
Steubenville, Ohio 43952
Associated Costs
The costs associated with AA in Philosophy program include:
Contact Us
If you have any questions or need help please contact Graduate Admissions at GradAdmissions@franciscan.edu or (740) 284-5239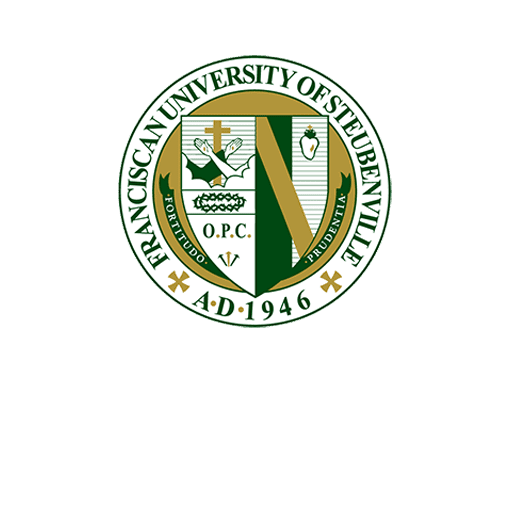 Franciscan University's Master of Catholic Leadership Program, in partnership with COR Expeditions, invites you to be a "summer fellow" and integrate leadership opportunities with Christian purpose, recognizing the call to servant leadership present in the Gospel. Experience true community and spiritual renewal through team work, while learning about leadership models and theories.
NOTE: The summer fellow program has been postponed due to the COVID-19 outbreak and will be rescheduled when possible. Please check back in the future for more updates.